Montessori Education for Children 0-3 Years Old
"The child is the father of the man."
Dr. Maria Montessori
Maria Montessori outlined various sensitive periods that take place over the course of each child's development. During these periods of time, the child is especially interested in learning specific concepts and skills. Before 3 years of age a special sense of order, a new capacity for deeper concentration, as well as improved coordination and independence are of special focus. This time is ideal to begin a child's consistent academic experience in a Montessori classroom, as she is building the foundation for all her future learning and social experiences.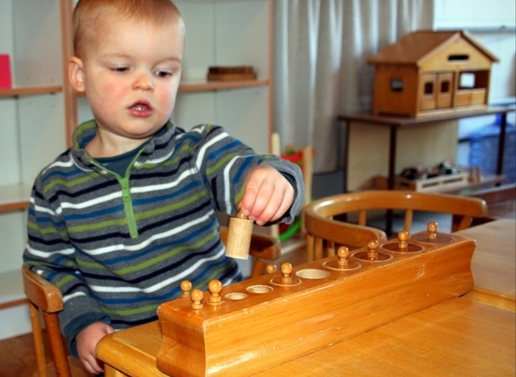 Recognizing the importance of Montessori education for Infants, Toddlers and Preschoolers, Celma Pinho Perry, the founder of Seton Montessori Institute, developed the Montessori programs for children at Montessori Children's House of North Barrington many decades ago.
At Montessori Children's House a child's Montessori education can begin with participating in the Parent-Child Program, where families with Infants and Young Toddlers experience materials and activities in our thoughtfully prepared classroom under the careful guidance of a Master Teacher. This class provides a smooth transition to the child's successful and independent experience in our Montessori Class for 2-3 year old children.
Our 2 to 3 year old program offers children a doorway to learning in a home-like setting that nurtures the spirit while supporting growth and independence. Teachers are specialists in the needs related to this age group, which can include such issues as the establishment of autonomy, toilet learning, separation and the first transition to school, nutrition and sleep.
As educators, we recognize the importance that parents play in their childrens' lives as their child's primary educational influence. We value this role and encourage parents to be active collaborators and participants in the program by offering many opportunities for family involvement and participation. Parents are involved in assisting their children to identify their needs and in facilitating the educational experience necessary to meet them.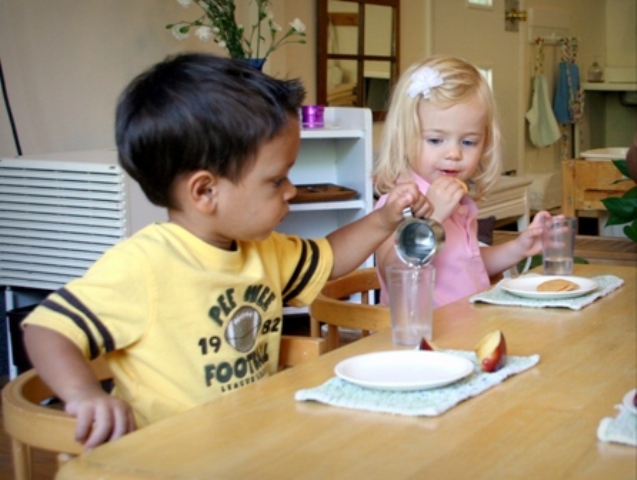 The 2-3 year old educational program includes everyday living skills, activities for sensorimotor and language development, and experiences in arts and sciences. In her book, "Education for a New World" Maria Montessori stated: "Observation shows that normally he (the child) has the desire to act independently; he wants to carry things, to dress and undress alone, to feed himself, and it is not by adult suggestion that he tries to do these things. On the contrary, his urge is so strong that our efforts are usually spent in trying to restrain him; but when we do this, we are fighting nature, not the will of the child."
Here we create a classroom experience that supports the young child's natural interest in becoming more independent in successful ways.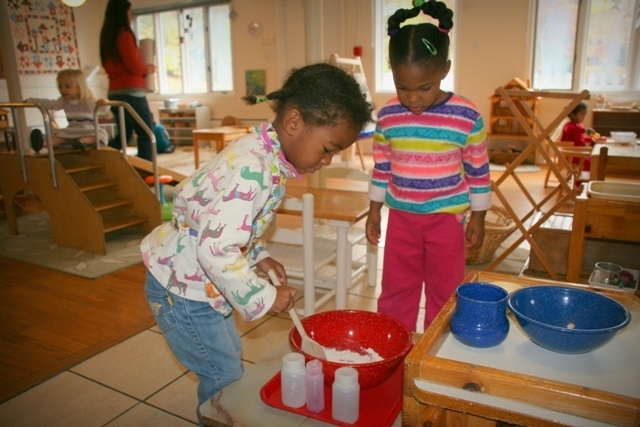 Montessori Children's House campus offers 3 acres of natural outdoor environment which includes:
– Places for purposeful work
– Open spaces for movement and exercise
– Child-sized equipment to develop strength, flexibility and coordination
– A child-tended garden to grow vegetables, herbs and flowers attracting native insects and birds

We see that during their time outdoors the children develop a beautiful sense of wonder and peace, and this time helps them to connect to their natural world and bring them together as a community.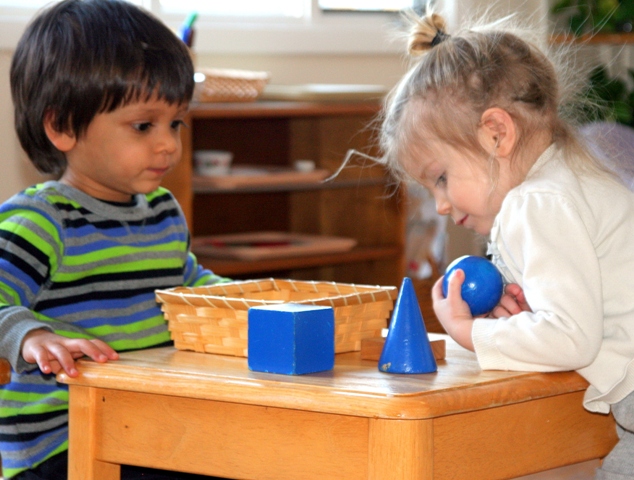 Our 2-3 year old Program is licensed by Illinois Department of Children and Family Services and accredited by the American Montessori Society.