Parent-Child Semester 2 Starts January 16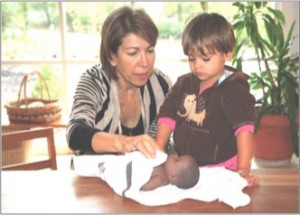 The Parent-Child program was developed for families with children from birth to thirty-five months of age. Families who are interested in joining the Parent-Child community are encouraged to come for a complimentary class as a way of getting acquainted. Our office staff will be happy to schedule such a visit for you.
This Parent-Child class offers you new ways of interaction with your child. Dr. Montessori's approach to education recognizes the parent as the child's primary educator. Our task though is to stand back and give the child enough freedom to build himself, but within the carefully planned home and school environments. Our renown Infant-Toddler expert – Ms Loreto Wille (on the picture) is preparing the environment for the class for optimal child development and will carefully guide your warm and constructive relationship with your child.
Classes for the 2014-2015 School Year will be offered in six-week sessions, and will be held on
Fridays from 9:15 till 10:45 a.m beginning Friday, Jan 16th-Friday February 20th and Session 2 Friday, February 27th – Friday, April 10th. (no class 3/20 or 3/27).
Option 1: Semester Registration (12 classes) – $240* (Sessions 1 and 2 at time of application)
Option 2: By Session Registration (6 classes) at $150 per session
Contact us to register or schedule a visit:   847.550.0917 (office)  or by email at mhnb.office@sbcglobal.net