Parent Child Programs
The Parent-Child program was developed for families with children from pre-birth to two years of age. The Montessori Children's House offers a warm, nurturing and stimulating environment that facilitates joyful interaction between children and adults alike.
Classes are organized into sessions and are offered on Mondays from 9:30 – 11:00 a.m. During the last class of each session, in addition to the children's usual activities, there will be a discussion for adult class members centering on a topic identified as being of interest to the group.
Families who are interested in joining the Parent-Child Community are encouraged to come for a free complimentary class as a way of getting acquainted. Our Office Staff will be happy to schedule a visit for you.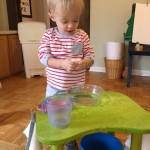 The Parent-Child class is led by Ms. Loreto Wille, who has dedicated her life for more than 30 years to teaching children, working with families, and the training and development of future Montessori teachers. All these years Ms. Loreto has been a part of our Montessori Children's House Community, and we are proud to have several of her former students who have returned now as parents with their own children at MCH.